Garrett Rank isn't just any sports professional... at 31 he's an NHL referee in the winter, and top amateur golfer in the offseason, and now ranked among the top 50 amateur golfers in the world!
At University, he used to be a solid hockey player before a diagnosis of testicular cancer, which he beat, finished his hockey dreams.
Garrett carried on officiating hockey games and eventually rose through the ranks traveling from city to city.
During these travels, he started showing a lot of promise as a golfer - this is where the two journeys, hockey referee and top amateur golfer, coalesced.
He found himself on Canada's National Amateur Golf Squad and hit the big time with both a gig in the NHL and a spot in the RBC Canadian Open.
Garrett has found a happier state of mind and the perfect balance of loving his officiating role, and being able to take a few months off each year to travel and play at amateur golf events.
His top NHL salary makes breaking up the occasional hockey scrap quite bearable. And, also ranking as one of the top amateurs in golf, after winning the Western Amateur in August, he has proved that you shouldn't underestimate the part-time sports professional.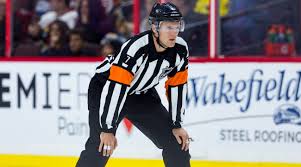 Garrett does, however, admit that, in the past, his emotions sometimes got the better of him, and resulted in performances that were disappointing. So he sought out and worked with a reputable Sports Psychologist to improve his mental game. He credits his achievements to this mental performance work;

"I feel a lot calmer about myself. Not that I'd get too angry on the course, but sometimes I'd let my emotions affect my game. I'm just happy to get to play now", he said.
After working with his Sports Psychologist, Garrett says he's come to an understanding about the lessons he's learned from his years of playing top amateur golf. "my swing is just my swing", he adds.
He shared that any past failings had little to do with his ability and that he now applies the lessons from times when he was in contention, but couldn't close the deal, and that over time, he used his own experience to build confidence. At the Western Amateur, he said to himself, "You've finished second enough".
Instead of trying to impress agents or equipment companies these days, he just works on impressing himself.
Like Garrett, have you finished second enough times?
Then, it's time to work with an expert Mental Performance Coach who has a track record of getting specific, measured and evidenced results, contact me now.
I'm here to help YOU Lead With Confidence.
PS. HERE you will find out what Hockey Players, Olympians, and other Sports Professionals are saying about my Mental Performance Training.
Warmest,