Are you feeling mentally drained?
Do your mental energy levels seem lower today than before?
Are you finding it difficult to manage your mental energy?
We all have those days where we feel mentally drained. Thinking back to one of those days, how easy was it to play hockey that day? Maybe not so easy eh?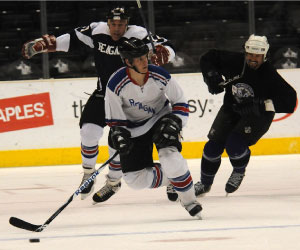 On the flip side, we all have those days where we achieved so much and could have kept going on forever. How easy was it to play hockey on one of those high-energy days? Pretty easy eh?
Here's a tip to help you to experience more of those high-energy days than the mentally draining ones.
Today, take the time to train your brain to find the ways that actively refuel your mental energy. Examples are; exercising, practicing your stick handling skills, watching your favorite hockey player on YouTube, spending time with your family, and having some time alone.
Taking responsibility and actively finding ways to refuel your mental energy will put you in a positive position of hockey confidence.
Do you want more help to develop your own Hockey Confidence?
HERE you can get your very own copy of 'Hockey Confidence: Train your brain to win in hockey and in life'.
Then,
GO HERE to access NHL Hockey Winning Mindset Tips to dominate on the ice.
Warmest,

PS. If you want me to help you with your mental energy BOOK YOUR NHL WINNING MINDSET ASSESSMENT AND EVALUATION HERE.